Nigeria, having a dual exchange rate policy, is able to keep Naira rates rather stable compared to currencies of many countries with market managed floating exchange rate policies. First half of 2019 has been a characteristic period for a dual exchange rate policy market in terms of Naira value. Dual exchange rate policy is a type of currency management policy in which official central bank structure of a country directs the exchange rate of the official currency in a limited range whereas the currency is traded at a different value in the unofficial parallel markets.
When we look at Naira exchange rates of Central Bank of Nigeria (CBN), Bureau De Change and parallel market (black market) for the first 6 months the year, we see that the rates only have minor moves and Naira has slight value gains against most of the commonly traded currencies.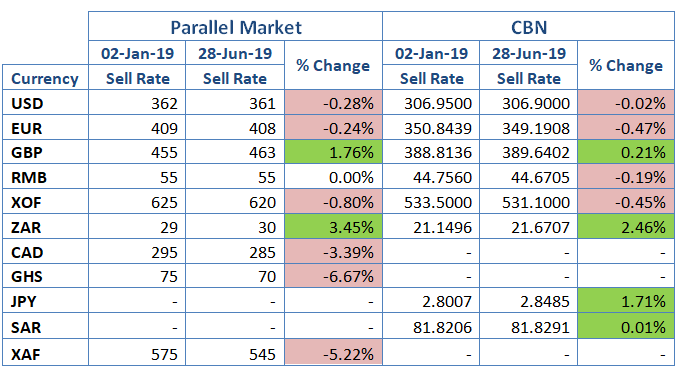 This table shows that Naira has value gains against most of the commonly traded currencies both in parallel market and CBN. Biggest value gains occurred against Ghanaian Cedi (GHS), Central African CFA Franc (XAF) and Canadian Dollar (CAD) in parallel. Two currencies stand out against the common behavior, South African Rand (ZAR) and British Pound (GBP). ZAR has 3.45% rise in parallel market and 2.46% rise according to CBN; this makes Rand most value gaining currency against naira this year. GBP has an obvious value gain against Nigerian Naira on both sources, too. Pound to Naira rate has a 1.53% ascent in Bureau De Change in the same period as well. A third currency having upwards trend according to CBN is JPY whereas we do not have enough information about its parallel market rate as it is not commonly traded.
Looking at these numbers we can say that CBN could successfully manage Naira rates in the first half of 2019 thanks to its currency management policy. Naturally, this stability had some cost on other economic parameters for Nigeria. One of the most frequent objections is dual currency exchange rate policy paralyses foreign investor attraction that is vital for Nigerian like any other emerging market.
In addition to stability in the currency rates, Nigeria inflation rate has been quieter than previous years as the rate stayed between %11.22 - %11.40 range until the end of June according to data announced by National Bureau of Statistics (NBS).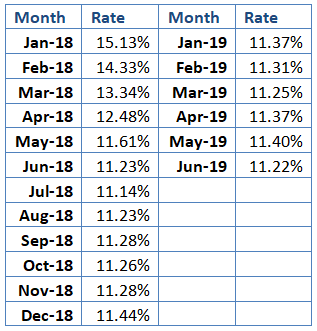 Inflation rate has peaked for 2019 on May with 11.40% mainly with the effect of rainy season on food prices. On June price rises have been milder with the lowest rate for the year, 11.22%. Common view among economists for the rest of the year is that the inflation rate will probably not pass the value 12%, however it is definitely forecasted above 11% level. Inflation level is curiously observed by Nigerians as the government is committed to implement national minimum wage increase that is finalized on April, 2019. The new minimum wage is NGN 30,000 with a 67% increase upon previous value NGN 18,000. The new minimum wage level will be appreciated as long as inflation rate keeps at low pace.
The margin in currency rates not exceeding 6-7% level with the largest upwards move at 3.45% made by ZAR and the inflation rate that is definitely forecasted above 11% line for the rest of the year, foreign currencies are still not an option for investment in Nigeria.